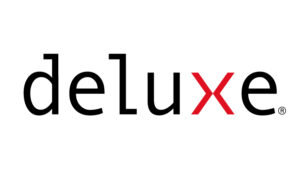 A 105-year-old company that founded the modern payments industry. What?!?
If you don't know the New Deluxe, you wouldn't expect to see
Deluxe making headlines about its financial technology.  But, that is exactly what's been happening over the last year.
Wait, I thought Deluxe was just a sleepy check printer?  Wrong!
Deluxe is The Original Payments Company.  In 1915, W.R. Hotchkiss took out a $300 bank loan and began to sell his invention – the checkbook – and revolutionized commerce and created a payments industry. For years, Deluxe achieved great success selling checks and business forms, becoming one of the largest printers and manufacturers in North America.  Despite the success of credit and debit cards, checks are still the primary payment tool for many businesses.
Today, Deluxe has transformed into a Trusted Business Technology™ company that champions business so communities thrive. We serve 4.5 million small businesses, more than 4,000 financial institutions and dozens of the largest enterprise companies.
Annually, Deluxe solutions process more than $2.8 trillion in payments, nearly 15 percent of the entire US gross domestic product.
This past September, we further solidified our role as a Fintech leader, announcing new locations in the Atlanta and Minneapolis areas, locations designed to showcase our future as a tech company. In Atlanta, Deluxe is moving into 172,000 square feet of space in Sandy Springs, where we will be creating a Fintech Innovation Center and a Customer Experience Center. The Fintech Innovation Center will serve as a research and development hub for our company, where we will align our latest breakthroughs with experience, entrepreneurs and students.
We plan to bring in leaders in AI, digital commerce, data and cloud computing and more to not only further our Fintech path, but to spark creativity and excitement in this space. Atlanta is a leader in the payments, financial technology and cloud services arenas, and Deluxe is eager to expand our footprint in this market to tap into the deep talent base as we continue our journey to be a Trusted Business Technology company.
Atlanta is leading the Fintech world, and Deluxe is excited and eager to be part of that journey. As the world continues to struggle with the
COVID-19 pandemic and we face uncertainty in the economy, Deluxe is leaning into new ways to help companies pay and get paid, to reach customers, to safely and securely move money.
As we take part in Fintech South October 5-9, 2020,Deluxe is leaning into technology and innovation to build a better future for us all.
---
Barry McCarthy is President and CEO of Deluxe Corporation, a Fortune 1000 company. He is also a longtime leader of the Atlanta Fintech community and former Chair of Fintech Atlanta.